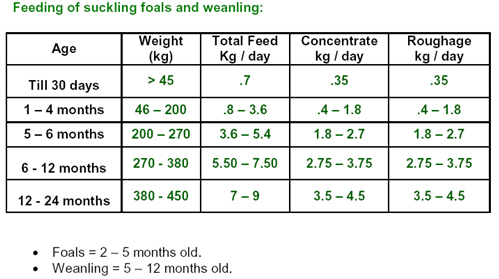 RECOMMENDATIONS:
Complete feed / cereal supplement with added vitamins for horses and ponies.
More successful breeding with mares and foals on top form.
Heavy Activity 1 hour per day (walk, trot, heavy gallop, competition)
Nutritional guidelines:
We recommend ANUPAM FOAL STARTER MESH (H-2018)
| | |
| --- | --- |
| 18.0 % | Crude Protein |
| 3.0 % | Crude Fat |
| 4.0 % | Crude Fiber |
| 1.1 % | Calcium |
| 0.8 % | Phosphorus |
| 7.0 % | Ash |
Adequate level of minerals and vitamins.
Ingredients
Barley, Fine bran, Soya, Deoiled Cakes, Pulses, Grains, Vegetable Fat, Mineral Salts, Trace Elements, Vitamins Electrolytes, Yeast and Probiotic.
ADVANTAGES:
Young Foals can be supplemented at rate of (1.0 – 1.5% body weight) 1 – 1.5 kg / 100 kg Bw, without risk of over feeding and development of bone abnormalities. If foals are growing fast, chance of epiphysitis (open, wide, hollow knees) contracted tendon. This requires restriction of the growth rate for a period of 3 – 4 weeks without affecting the size at yearling age. Either cutting supplementary feed or reducing intake by 25% for 3 – 4 weeks can do this.
As a guideline most weanlings should have a minimum body weight gain of 500 – 600g daily at 5 – 6 months. Early weaned foals should gain 750g daily until 6 months to ensure adequate development.
Although feeding higher amounts of carbohydrates in concentrates will boost growth rate; excessive body weight may increase the risk of bone, joint and tendon development problems.
Essential vitamins and trace minerals, including selenium for health and muscle development and good supplement of vitamin E is beneficial in weanlings destined to be performance horses.
Feed on an individual basis. Poorly conditioned yearling may benefit from extra feed, such as 1.5 kg of good rolled barley in the evening feed. However, as energy is increased, the amount of exercise must also be increased to avoid swollen legs and symptoms of contracted tendons.
Very fat youngsters should be placed on a maintenance diet and exercise increased to slim body weights without excessive stress on the limbs resulting in joint and leg problems.
ANUPAM HORSE FEED is enriched with Sodium, Magnesium, Potassium and trace elements (Iron, Selenium, Cobalt, Copper, Iodine, Sulphur and Zinc) . It restores the horse's stamina, splendor and equilibrium.