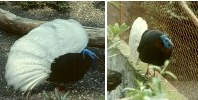 Other Names: Wattled Pheasant, White-tailed Wattled Pheasant, Bulwer's Pheasant
Subspecies: None.
Habitat: Montane tropical forest up to 5,200 feet.
Brief Description: The male is one of the most spectacular of all pheasants. The species is named for the bright blue facial wattles that are extended several inches during courtship. The curved white tail is also a noticeable feature. The general body color is dark blue to black, with the throat and upper breast purplish. The female is dull brown overall with fine black vermiculations; crestless, blue facial skin.
Status in Wild: Locally common in four protected areas in Borneo, but rare elsewhere as logging and clearing for agriculture has destroyed habitat.
Clutch Size: 5 eggs
Incubation Period: 25 days